MIURA - Pintxos Bar & Grill
MIURA - Pintxos Bar & Grill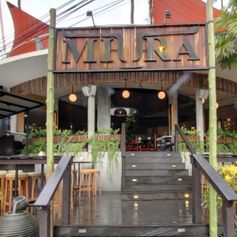 MIURA Pintxos Bar & Grill serves an authentic cuisine inspired by the Basque Country. Even being the part of the Spain, Basque is an identity of its own, with matchless culture, where traditionally are served pintxos, the best imported cold cuts, juicy meats & fish with best wines, sangria, gins & crafted cocktails.

MIURA - The name Miura comes from Don Eduardo Miura who was known for producing the most fierce fighting bulls in Spain.

PINTXOS -Similar to popular Tapas, Pintxos are generally served on a small slice of bread with a toothpick piercing them through the middle, using the freshest ingredients as toppings. Perfect for snacking and goes perfect with your drink.

BAR- Extensive gin list, well crafted signature cocktails and sangria made by special recipe, the best one you'll try on the island.

GRILL - Revolutionary hybrid grill, JOSPER! The one and only in Bali that keeps all the natural juices from your favourite food, be it steaks, fish, meats or vegetables.

Being situated on the Beautiful island of Bali, we'll be serving you the typical food from Indonesia, Asia and for your comfort, hot days and pleasant nights you can go for pasta or pizza, refreshing salads and filling sandwiches.

Miura is bringing to you the gourmet experience beyond your imagination.
Show more
Miura Pintxos Bar & Grill
Book online
Book your wedding online securely with PayPal or credit/debit card