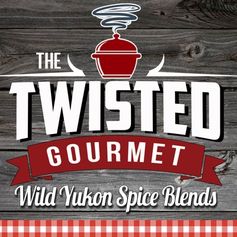 Perfect take home gifts for your wedding guests! The Twisted Gourmet proudly offers delicious Wild Yukon Spice Blends! Hand made in small batches in Whitehorse, these exquisite seasonings combine hand harvested treasures from Yukon's wilderness with freshly roasted & ground spices, sea salts and organic cane sugar.

I harvest local Yukon treasures like wild low bush cranberries, wild rose petals and wild sage and take the time to dry my own ginger, leeks, berries, herbs, chili peppers.. you name it. Yukon wild morel mushrooms are complimented by freshly dried leeks & aromatic rosemary, and freshly dried ginger & chilis infuse my Twisted Curry with its signature flavour. Organic cane sugar is the base for my delicately flavoured infused sugars, along with delicious organic herbs, flowers and berries.

I'd love to work with you to custom label a true taste of the Yukon for your wedding guests to take home and remember your special Yukon wedding!
Show more
Book online
Book your wedding online securely with PayPal or credit/debit card