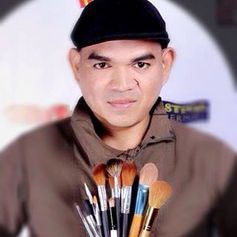 RALPH LAURENCIANA DE LA CRUZ

WHERE DID YOU START FROM?

I started from a scratch. When i was a little boy, i drew anything like robots, shoes, legs of a women, diff. dresses, flowers etc. and found my self interested on putting anything making my friends face pretty as they look at. i love to draw as what my Father love to do so and when i was in high school the motivation to draw and paint was entirely of other nature...
one afternoon in 1994 i watched BEAUTY SCHOOL PLUS at channel 9 and got interested to enroll at RRLI at Quiapo Manila. Completed my taken course and land a job in Makati as in-house HAIR AND MAKEUP ARTIST.
Friends in Fashion Industries / Photographers / Models etc.,thank you for all your support...

HOW WOULD YOU DESCRIBE YOUR WORK?

Artistic, creative and Independent. i was able to connect drawing/ painting and makeup..deep understanding in color combination.

WOULD YOU DEFINE YOUR CAREER MORE AS STYLE OR AS FASHION STATEMENT?

I'd rather define my career as free style artist.

WHAT DO YOU FIND SO INSPIRING?

I often get inspired by anything like any average people surrounds me...things that need a change on how they look at and to correct it in a certain way..

CAN YOU TELL IN ADVANCE WHO MAKES A GOOD MAKEUP ARTIST OR HAIR DRESSER?

I think those who never quit and those who keep studying their whole life. those who have a positive mindset towards the Artistry of makeup..never think negative in all aspects...otherwise you're out of business no matter what king of business you have.

WHY IS GAME/ COMPETITION IMPORTANT?

It's like sports. We need constant outside impulses and (new) challenges just to improve our self..a camaraderie . it's not important whether you win or loose what matters is that you keep fighting and learn from each fight..it is a road of perfection.
Show more
Book online
Book your wedding online securely with PayPal or credit/debit card