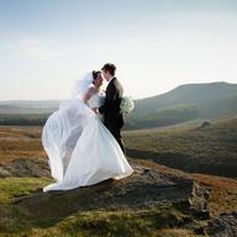 I love photographing weddings. I love recording the day as it unfolds in my natural photographs, as every wedding is different. All the details, the people, the laughter and the tears – your photos should bring it all back.

My style has often been described in photographers' terms such as Reportage or Documentary. I love documenting the day as it unfolds, and that's a big part of what I do, but I don't think it tells the whole story.

Equally important are the beautiful portraits of the bride & groom, which require an artists' eye. Careful thought goes into planning where and when, and a proper understanding of the lighting and other technicalities. I strive for a natural feel, and prefer to work with my clients rather than simply telling them what to do.

Most couples want some family group photos too, which often require a certain amount of polite crowd control.

I'm in a highly privileged position being invited to be at your wedding. On the day, I'll spend a good deal of time with you, your friends and family, so the way I go about doing things is really important. I've come to realise that what I do naturally is just what a wedding photographer should – be happy, agreeable, approachable and confident. I genuinely enjoy my work, which allows me to pick up on the mood and emotion of the day. In turn, I believe this always shows in the photographs.

You'll have put a truly epic amount of planning into your wedding, so before the big day I sit down with every couple to schedule the who, what, where and when of the photography.

I always have backup equipment, just in case, and I have all the proper insurance.
Show more
Book online
Book your wedding online securely with PayPal or credit/debit card