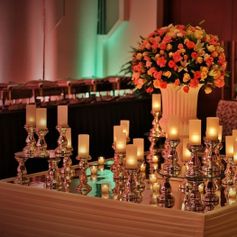 Wedding planning service in Rajasthan.
Wedding planner in Udaipur.
Indian weddings are traditionally multi-day affairs, and involve many intricate ceremonies, such as the painting of the hands and feet of the bride called a mehndi. Garlands are presented to guests of honor instead of corsages, and lots of flower or rose petals are thrown for good luck.
The wedding is typically divided into three parts: pre-wedding, main, and post-wedding. The pre-wedding includes all the preparations and a party the night before where each side of the family can meet each other and dance and have fun. A Pandit, who has selected the day of the wedding based on the bride and groom's horoscopes, conducts a prayer with family members to provide the couple with a happily married life.
The wedding altar (mandapa) is built the day of and the groom is welcomed by his future mother in law where his feet are then washed and he is offered milk and honey. His sister in law will attempt to steal his shoes and if she succeeds, the groom must pay her to get them back. An Indian groom typically wears a turban with a veil of flowers to protect him from evil spirits.
The parents give the bride away, but they do not eat before the wedding to remain pure for the occasion. The bride's saree is tied to the groom's scarf to symbolize the union of the souls. During a similar ceremony, a cord is tied around the couple's necks to protect them from evil and they are typically tied by elders of the bride and groom.
Show more
wedding jagmandir udaipur
Other projects
Confirm project deletion
Are you sure you want to delete the project?
Book online
Book your wedding online securely with PayPal or credit/debit card