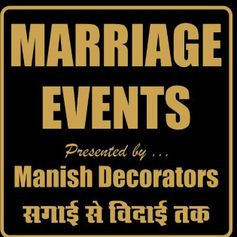 MARRIAGE EVENTS
Presented By
Manish Decorators
"Special Arrangements for Events Organizers"
Head office : Inside roadways Bus dipo, phalodi-342301 Jodhpur (Raj)
Branch office : Near purani thesheel Road bap, phalodi-342301 Jodhpur (Raj)
Conatct : 9460049651
Follow : www.facebook.com/a.m.decorators
Mail at : manishprovisionworld@gmail.com
Warmala concepts
Mahila sangeet DJ night
Male & female anchor
Male & female singer
Many more stalls & catering
Flowers decorate all side
Candle decorate
Balloon decorate
Male & Female waiter
Beautician
Mahndi Artist
Enter ship many more concepts
Sahi barat sahi band
Punjab band
Binmaal band
Female band
Sahnai parti
Sahi lwajma /dejart
Sahi chhater
Cemal , elephant ,hores ,sahi safari
Live function
Many more statues
Glass display
Fruits stall display
Bollywood celebrity
Honeymoon vacation Deals
Sahi doli & palki with dejart
Sahi baggi
Goldan night Room decorate
Marriage photo & vediography
HD wall carn dron live concepts
Pree weeding shot
Male & female live Instrumental
Fire work & sky decorate
many more new concepts & specialties... Flowers decoration dealing with all kind of indian fresh flowers & Artificial
flowers decoration & all over the city also doing flower's decoration for various ''marriage events''occasion like
special marriage function ,engagement & anniversaries function ,birthday parties ,& other's happiness function. in
novelties in flowers decoration's & all marriage events many more concepts available.
Show more
Other projects
Confirm project deletion
Are you sure you want to delete the project?
Book online
Book your wedding online securely with PayPal or credit/debit card