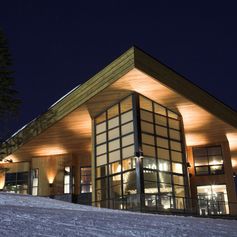 Weddings at Crescendo are limited only by one's imagination. Crescendo's expansive ceilings and open-layout combine to make Crescendo warm and inviting: whether the event is small and intimate or 100 strong.

Crescendo has three dedicated Bedroom Suites: one Master Suite and two Guest Suites. In six very separate spaces, though, Crescendo can accommodate up to 22 overnight guests. The two Guest Suites, for example, have twin bed lofts, and the Theatre was thoughtfully designed to transform into a fourth bedroom (where custom cabinetry conceals three elegantly-made queen beds with personal closetry). The Den, too, transforms from a cozy TV room into a four-person twin-bed nest, with an elegant floor-to- ceiling glass partition. Further, in our well-appointed Recreation Room, you will find a large sectional couch that includes a pull-out queen-sized bed.

Crescendo also has five bathrooms, and three of those have two-person showers. The three Bedroom Suites and the Theatre, in fact, each have their own private ensuites. The master ensuite, though, is especially sweet. Not only does it boast a two-person steam-shower, but the two-person jetted tub overlooks the Great Room, providing views to the fireplace, to the ski slopes, and to the Monashee Mountains.

Winter or summer weddings hosted by Crescendo at Big White, are uniquely spectacular. We have created an amazing outdoor space to help you and your guests celebrate your union. During the day, move freely between our pool and picnic table areas. Later, enjoy the sunset, seated around our gas-fired Fire Table. Further, the entire space around both the Patio and Pool areas has been leveled, tiered, and dramatically landscaped. Transitioning between the two areas is seamless, and when combined we can accommodate seating for more than eighty people (with panoramic mountain vistas as the backdrop).
Show more
Book online
Book your wedding online securely with PayPal or credit/debit card