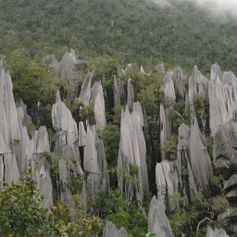 Considering Mulu's spectacular scenery and its biological significance, it was not surprising that Mulu was successfully listed as a World Heritage site in November 2000. To qualify for world heritage status a park must meet one of the four following criteria:

Be an outstanding example of the world's geological history.
Be an outstanding representative example of on-going evolutionary processes.
Be of exceptional natural beauty.
Contain significant natural habitat for in-situ conservation of biological diversity and the protection of threatened species
Mulu meets all four of these:-

EARTH'S HISTORY AND GEOLOGICAL FEATURES

Mulu's concentration of caves, its geomorphic and structural characteristics are an outstanding resource, which allows a greater understanding of Earth's history.

ECOLOGICAL PROCESSES

Mulu provides outstanding scientific opportunities to study theories on the origins of cave faunas.

SUPERLATIVE NATURAL PHENOMENA OR NATURAL BEAUTY AND AESTHETIC IMPORTANCE

Mulu has outstanding scenic values, including the natural phenomenon of millions of bats and swiftlets leaving and entering the caves is a superlative wildlife spectacle.

BIODIVERSITY AND THREATENED SPECIES

Mulu provides significant natural habitat for a wide range of plant and animal diversity both above and below ground.

World Heritage status has created renewed interest in the park and a genuine desire of the government and people of Malaysia to ensure it is adequately protected. Accordingly, the Sarawak Government has committed to developing world leading conservation practices and high quality nature-based tourism activities at Mulu and has committed considerable resources to ensure its goals are achieved.
Show more
Book online
Book your wedding online securely with PayPal or credit/debit card