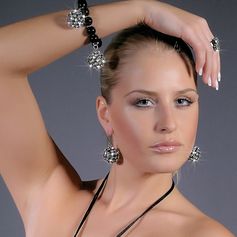 CRISTALUNA® began as a concept when her founder discovered the art of Acrylic Crystal in Italy. Based in Germany, they have since put together a team of the best Italian designers and craftsmen and combined their art with German precision technology to develop a collection of jewellery that is like no other.
The combination of a range of SWAROVSKI® ELEMENTS, coupled with the transparent beauty of acrylic crystal, is the secret of this collection's success.



Today CRISTALUNA has become the name associated with acrylic jewellery on an international level. The pieces from this collection have been worn by some of the world's most famous names in fashion and entertainment.
The style of our commercial lines is the expression of typical Italian creativity, distinguished by designer models, manufactured by master craftsmen. The tooling of sheet "ACRYLlC CRYSTAL", synonymous with long lasting solidity and transparency (unbreakable and non-allergic), embellished with SWAROVSKI® ELEMENTS are the major characteristics of all pieces of jewellery in the CRISTALUNA® collection.
The collection includes rings, bracelets, earrings, necklaces, pendants, tiaras, bras, lucky charms and hair accessories which, thanks to exclusive hand-finishing procedures combining the transparency of acrylic crystal with the sheen of
SWAROVSKI® ELEMENTS, appeal to the elegant woman's desire to be herself.
Each SWAROVSKI® ELEMENTS is placed one by one by hand. Any metal or Silver 925 is nickel-free.

The CRISTALUNA products are accompanied by a warranty certificate issued by us which states the authenticity for the handcrafted artwork of each object and the use of SWAROVSKI® ELEMENTS. They are supported by modern packaging, exhibitors and shop-window posters.

You will find our products at all leading national and international jewellery exhibitions and fairs.
Show more
Fabulous jewelry for brides from cristaluna usa
Book online
Book your wedding online securely with PayPal or credit/debit card