The Rock and Rule Swing Band
The Rock and Rule Swing Band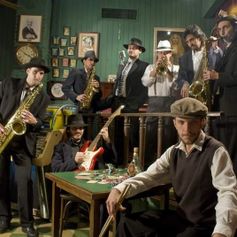 The Show:

The Show of the band "The Rock and Rule Swing Band" is set in the 30s and 40s in terms of clothes and image.

Thanks to his musical style, "The Rock and Rule Swing Band" has established itself as one of the firsts regarding bands of the style emerged in the 90s, worldwide, called "Neo Swing".

Faithful to this movement, and thanks to the size of 10 musicians on stage, including a 6-assembly involving wind instruments like trumpet, sax and trombone, "The Rock and Rule Swing Band" manages to rescue the old fun spirit, yet high quality music,from the old Big Bands of those decades, but with some renovation, achieved by mixing this style with other music genres such as rockabilly and some subgenres of rock and roll, as well as Latin music.
Show more
The Rock and Rule Swing Band
Book online
Book your wedding online securely with PayPal or credit/debit card