The House of Cakes Bakery Dubai
The House of Cakes Bakery Dubai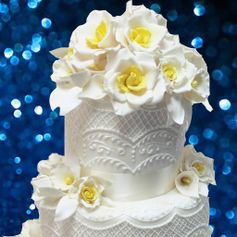 At The House of Cakes Dubai we are passionate about baking and just love creating beautiful edible works of art - this includes bespoke wedding cakes, celebration cakes and cupcakes and cookies.Exquisite wedding cakes, spectacular novelty cakes, fun birthday cakes and lavish celebration cakes in any design - hand crafted to order.
We create works of culinary art which can be as sumptuous and extravagant as a many tiered individually designed wedding cake centrepiece or as exciting and fun as a fairy castle birthday cake for a six year old who just has to have something a little special for her party.
Working alongside some of Dubai's top hotels, wedding planners and florists we fashion bespoke creations in any shape, size and colour that can be personalised to meet your exacting specifications and delivered anywhere in UAE.
Our friendly and professional approach has won us an excellent reputation for customer service so from the moment you provide us with your wish-list to the delivery of your beautiful cake we will be with you every step of the way.
Show more
Wedding Cakes by The House of Cakes Dubai
Book online
Book your wedding online securely with PayPal or credit/debit card