Awarta Nusa Dua Luxury Villas & Spa
Awarta Nusa Dua Luxury Villas & Spa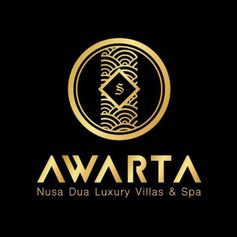 Let us come home to say "I do"
where flowers bloom, and trees never wither -

The story began back in the 12th century when Singaraja was the capital city of Bali island, a romantic story about a king named Sri Jaya Pangus who fell in love and married a noble princess Kang Ching Wie from China.

Their love story started the collaboration of the two cultures and has beautifully form a new ethnicity which known now as the Indonesian-Chinese 'Peranakan' culture.

Inspired by this fascinating and enchanting story, Awarta has distinct a new trait of luxurious villa that features and combined the richness of modern oriental style with a relaxing and warm Balinese architectural style. These precious legacies that have been inherited from that historical era are visibly shown throughout the architectural style at every inch and corner of Awarta Nusa Dua Luxury Villas & Spa.

Let the nature and love in this place be the home to your once in a lifetime special day. Celebrate your dream wedding, like this place is all yours.

Established by the warmth of family solidity and well-being, Awarta is simply defined as a Treasure, where you may find yourself in a hidden haven of tranquility.

At Awarta our guest are our Sri Jaya Pangus and Kang Ching Wie, our Kings and Queens. From our authentic and luxurious facilities to our Personalised Butler assistance we selected the finest to suit your tailored needs. By this philosophy we crafted this kingdom with exquisite attention to detail and comfort for you to call it, Your Home.

An unforgettable experience, an unforgettable you that we know as our
Kings & Queens.
Show more
Book online
Book your wedding online securely with PayPal or credit/debit card