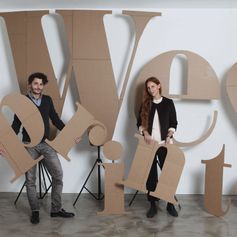 Graphic & Fine Print Studio

Stepping into the studio of Carissimo Letterpress is like traveling back in time.
On wooden shelves varities of fine cotton papers, boxes and cards are piling up to the ceiling.
Antique wooden and lead typefaces are stored in drawers of old cupboards. Printing colors with high pigmenting and a special scale to weigh and mix Pantone colors are readily waiting on a table. Only computers and a coffee machine are references to modern life.
Three machines have a special magic to them. Each of them has their own character. And each has their own name.
An over a 100 years old printing press, baptized Maria Addolorata, travelled all the way up from the sunny south of Italy to Vienna. With her heavy iron cast strength, lovely paper products are created, on which you can feel the print when you run your hand over the paper.
Sophia Loren is a 1960ies proof press, a rarity from Switzerland. The enormous paper cutting machine, slicing through the thickest and fluffiest cotton stock is named Bud Spencer.
This is the world of the Italian-Austrian Duo, Alessandro and Ana. This is where they create custom-made, sense-enchanting Letterpress stationery. When looking at the different products you can feel the love and care that goes into manufacturing each item.
In Letterpress printing each paper is printed once at a time. For each color there is a separate print form and print run - always cleaning and adjusting the setting of the printing press.
Precision, an eye for details and passion for the craft are essential to produce these delicate patterns and color combinations. Custom made stationery is another speciality of Carissimo Letterpress. A continuous concept,
well-balanced colors and fine papers are especially important to them.
Show more
Wedding Invitations Custom Design