You do the shoot wedding video
You do the shoot wedding video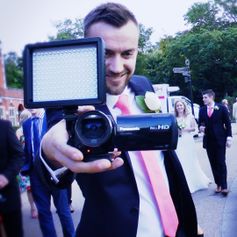 There aim is quite simple to make beautiful and charming wedding videos, that are as uniques as you are. They offer two different options or approcehes to filming your own wedding video.
The film it your self approach. That is the entire event if filmed by your freinds and family Or the option to add a professional videographer to the package and let him deal with the more mundane part of the shoot, while your freinds film all the great and memorable footage that give these videos a unique look.
So you can either shoot it your self, with their help, expertise and advice or add a camerman and have all your bases covered. Either way your going to get a great video.
A GREAT VIDEO IS MADE IN THE EDITING ROOM
Our professionals editors excel in making the footage you've shot come alive, bringing the peices togeather to tell your story. adding nice touches such as a slide show at the end of your video, animated titles, slow motion scenes, coulourised still inserted throughout the film and personalised DVD cases and disks
THE PROCESS IS SIMPLE
They will send you two camcorders and everything else you need to shoot your wedding video. All the equiptmernt arrives with you three days before the wedding.
Giving you a chance to film all the cool stuff leading up to your BIGday.
Or if you prefere you can add a pro camerman
He will arrive on the day
He'll shoot all the formal stuff and anything else you require and direct your guys. Giving you THREE cameras filming your wedding day
This is clever because.
A Standard wedding video company would charge you a fortune to have more than one cameraman filming you day. So you get the high end look at a fraction of the price.
YOU DO THE SHOOT
FOR WEDDING VIDEOS AS UNIQUE AS YOU ARE....
Show more
Other projects
Confirm project deletion
Are you sure you want to delete the project?
Book online
Book your wedding online securely with PayPal or credit/debit card