Dennis Araya Photography & Details
Dennis Araya Photography & Details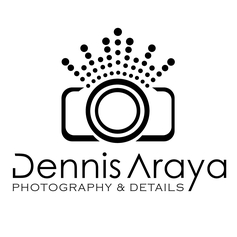 O meu jeito de contar a sua história!
Por que fotografar um casamento? Imagens contam histórias, e cada história é única. Ser o seu fotógrafo não me faz apenas registrar o seu casamento, mas o meu segredo é contar a sua história, do jeito que ela é: com cada lágrima e sorriso que a tornam real. Pois o mais importante é que quando você veja as suas fotos, você possa retornar ao passado e se sentir novamente se entregando ao futuro, relendo a história que você escreveu através de cada fotografia. Mais do que se recorde, eu quero que você sinta tudo novamente: as mesmas batidas no coração, o mesmo amor a palpitá-las, e toda aquela ansiedade que passa somente no momento em que se diz: "Sim, eu aceito!"
Morando no Brasil desde 2008, sou da Costa Rica e vivo momentos felizes atravez da arte da fotografia, me dediquei a explorar diferentes culturas, mas foi aqui no Brasil que me apaixonei e hoje dedico minha vida integralmente eternizando momentos únicos e inesquecíveis. Pois uma imagem vale mais que mil palavras.
Show more
Other projects
Confirm project deletion
Are you sure you want to delete the project?