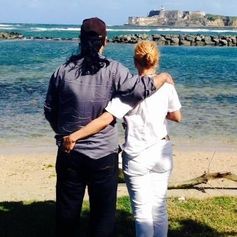 Delgado & Delgado: "Cosmic Radio Show"

Ralph Delgado:
Saxophone, Vocals, Various Percussion, Male Lead & Backing Vocals.
Saxophonist, Producer and Composer in Europe, this virtuoso is a diamond that does not lose its luster. He was also, presented an Award for Saxophone excellence and has toured with bands, on every continent, such as: Julio Iglesias (on television), Eddie Palmieri (concert in Weinheim, Germany), Was on TV with "Pop- Stars" of Germany: He was musical director of Bro'Sis and an elementary member many other bands like: Me & Heat, Shebeen, Stephen Ullmann, Miss Kavila, Markus Zimmerman, Fats Domino, Isaac Roosevelt, "Mighty Flea" - Gene Connors (Tina Turner), Costa Cordalis, Peter Oehler band and more. He has toured Japan and most of Asia, the Caribbean and the United States.
Born in Brooklyn, New York, his parents originating from Arecibo, Puerto Rico, he studied at the Free School of Musical (Jose Limone Acre), in Arecibo under the Music Teachers, Heriberto Velez and Miguel Rodriguez. Music is his life!
He is an artistic thoroughbred contemporary with the international musical crème de la crème! As a true cosmopolitan, he thrills audiences with songs in English and Spanish language, as well as, with his Saxophone solos that leave listeners breathless.
A musical gem in any genre & formation!

Theresa Renée Delgado (Walker): Female Front Vocals, Song Composition, Authoring Lyrics & Background Vocals.
The power voice par excellence! Described countless times as, "The Rock Pipes of the Rhein- Neckar Delta", she is a brilliant jewel among the even the greatest performers in Europe and the World. She is well known far beyond regional borders. From the beginning of her career she has composed her own melodies & lyrics and also, "on demand" for various artists.
Born in Berlin, her paternal roots are in Puerto Rico.
Having been raised in the U.S.A, where she attended professional instruction in: music theory, violin, piano, dance, acting & m.m.
Show more
Cosmic Radio Show - Best International Live Duet/Trio
Book online
Book your wedding online securely with PayPal or credit/debit card