Deborah Dantzoff аotografía
Deborah Dantzoff аotografía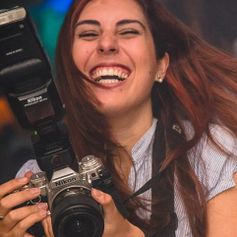 La fotografía es mi pasión y es mi mejor forma para comunicarme. Ella me encontró cuando estudiaba arquitectura e insitió tanto hasta que me convenció de que era lo que mas feliz me hacía. Alguna vez leí por ahí una frase que dice que hacer lo que te gusta es libertad, pero que te guste lo que haces… se llama felicidad. Por eso es que disfruto cada minuto de esta profesión y me conecto de forma personal con cada cliente, creo que es la mejor forma de poder contar una historia y plasmar los mejores recuerdos de nuestras vidas. Todavía recuerdo la primer foto que tomé, tenía 4 años y mi madre me dio la cámara porque yo le dije que le podía sacar una foto. Todavía recuerdo ir a la casa de mis amigas y pedirles sus álbums de fotos para conocer su vida. Todavía recuerdo las innumerables veces que veía el álbum de boda de mis padres. La fotografía no solamente es un arte, es una máquina del tiempo real. Mi nombre es Deborah Dantzoff, nací en Uruguay en 1990, soy hija única, tengo unos padres increíbles que me dejaron volar y tomar mis decisiones en todo momento. Vivo en Chile desde el 2014, un país que me enamoró en todo sentido y que me hizo madurar profesionalmente y sentimentalmente.
Show more
Other projects
Confirm project deletion
Are you sure you want to delete the project?
Book online
Book your wedding online securely with PayPal or credit/debit card