Hotel Il Cavalier d'Arpino
Hotel Il Cavalier d'Arpino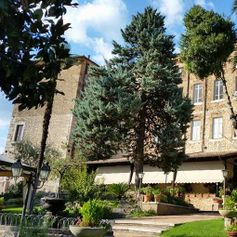 A refined ambience in the historic centre of the picturesque town of Arpino, the Hotel Il Cavalier d'Arpino is ideal for a relaxing and tranquil sojourn while rediscovering forgotten sensations.
Many of our guests return to see us each year in pursuit of the magical atmosphere that the Hotel our passion for our work and the love we hold for our country.
The Hotel was realised inside an historic and antique wool factory from the 18th century, perfectly reconstructed and fitted with 28 rooms of varying dimensions, and now boats modern comforts including wi-fi, LCD televisions, minibars, safes, an interior elevator, the absence of architectural barriers, and free parking on location.
The fragrant baked goods, homemade with genuine products and local fruit, make breakfast unforgettable.
The hotel is pleased to welcome domestic animals, dogs and cats, that will find a comfortable environment in which to accompany you on your vacation.
The reception rooms, finely and elegantly decorated, lend themselves, thanks to the marvellous park adjoining, to weddings, ceremonies, and large-scale events, and are also ideal for conferences and meetings.
The Hotel Il Cavalier d'Arpino is perfect whether for a sojourn away from work or for a pleasant vacation discovering Arpino and the surrounding Ciociaria; in fact, it was awarded the Orange Flag of the Touring Club Italia, boasting a strategic position between Rome and Naples, and it is a fascinating halfway point from which to be able to discover the hidden treasures which, over the years, have kept intact their traditions and originality.
The city of Arpino itself, dating back to the 7th century BC, homeland of Marcus Tullius Cicero, Gaius Marius, and Marcus Vipsanius Agrippa, with the lancet arch, the acropolis of Civitavecchia, the prestigious churches and prominent buildings, offers its guests a fascinating journey back in time.
Show more
Book online
Book your wedding online securely with PayPal or credit/debit card