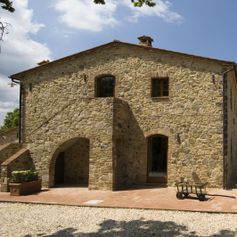 Carefully restored in 2009 by experienced local artisans, Borghetto Poggio Bianco has kept all the local qualities and fixtures that make it so authentic. It is divided in 2 parts: The Borghetto with private apartments, shared swimming pool and jacuzzi and the Private Villa Santa Croce with private swimming pool and Jacuzzi, They are close to each other: around 800 mt.
Borghetto Poggio Bianco is reached via a gravel driveway about a mile which opens up to the imposing Castle Falsini and continues through the woods. With 10 countryside apartments elegantly furnished and equipped, we can accommodate up to a maximum of 36 people. All apartments have been renovated with high quality materials, which give a touch of the rustic Tuscan style elegantly modern. The Tuscan hills and the forest around Borghetto Poggio Bianco, provide you with the atmosphere which makes this place the perfect base to spend a relaxing holiday.
Borghetto Poggio Bianco can be rented as a whole or in individual apartments is equipped with a communal swimming pool of 18 meters, a solarium, a barbecue area and outdoor heated jacuzzi, where you can enjoy a splendid view of the Tuscan hills and the Castle of Falsini.
Santa Croce is an ideal place to unwind from the stress of the city and to treat yourself to some of the gastronomic pleasures of the region: pecorino sheep cheese with a glass of wine, delicious tagliatelle or a juicy Fiorentina steak.
The main villa and its separate annex can accommodate up to 10 people within 5 suite bedrooms with their private bathrooms. In front of the villa, there is a private swimming pool, solarium area, a big barbecue area and a breathtaking view of the typical Tuscan hills. Weddings receptions can be plan in both the location! At Borghetto, we can accomodate for dinner up to 50 people, at the Villa, we can have dinner for at least 80-100 people.
Weddings receptions can be plan in both the location.
Show more
Real Weddings at Borghetto and at the Villa!
Book online
Book your wedding online securely with PayPal or credit/debit card