Kreative Productions - Wedding Videography
Kreative Productions - Wedding Videography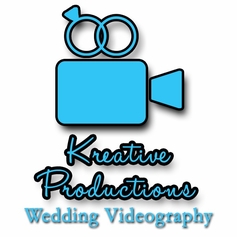 Your wedding day is the most important day of your life. Don't miss the chance to capture those memories, or worse, regret not doing so after it's all over.
With over 8 years of video experience, including a Bachelor's degree in broadcasting, as well as having been a bride myself in March 2014, I have a unique perspective and understanding of what the bride and groom are looking for in a wedding video. Trust me when I say that you won't be able to remember everything (no matter how hard you try) and I would be honored to capture your special day.

By hiring Kreative Productions, you are getting more than just a wedding videographer. I was a bride so I know that every helping hand makes a difference, especially when not everything goes according to plan. Since I will be by your side throughout most of the day, I am more than happy to help make your day go smoothly. I've fixed wardrobe malfunctions, pinned up hair, buckled shoes, given the maid of honor advice, and even taken photos of the bride while she was getting ready when her photographer was late. I'm there to make your day special and I'll do what I can to make it the best day of your life.
Show more
Kreative Productions' Photos
Other projects
Confirm project deletion
Are you sure you want to delete the project?