Purple Craves Giftshoppe , Wedding & Events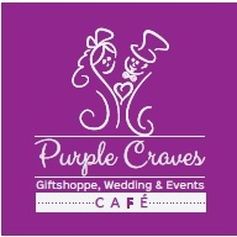 Serving our clients since 2003 .
"When you care enough to send the very best."

We have a knowledgeable team of professionals that will handle every detail of your wedding day to make it a beautiful and memorable one.

A wedding with Purple Craves is cost effective, professional and versatile, in other words we can cater to a wedding of any size and scale. When booking with us online, we will get back to you in less than 24 hours with an Ultimate Wedding planner who will contact you via email or phone to give you a quote .

Our team of expert wedding planners are guaranteed to customize any wedding to fit your needs. We can provide as much or as little assistance as you need on your big day. Scroll through your tab to choose the perfect different package options and services we can provide you.

Our "ultimate" goal is to create the perfect atmosphere on your BIG DAY !

We treat every wedding as if it were our own because we know and understand that this is one of the most important days of your lives.

Let's plan a wedding with you written all over it.
From inspiration to last-minute details, we've got you covered !
Show more
Lindy and LJ July 25,2015
Other projects
Confirm project deletion
Are you sure you want to delete the project?