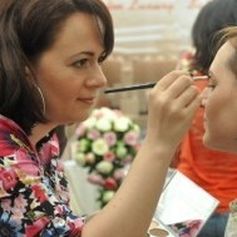 Meet Claudia – an exquisite make-up artist that will bring you happiness and confidence!

Event make-up: make-up sessions to individuals and small groups for weddings, fashion shows, photo & video shooting, TV shows, commercials. The sessions are organized at your location of choice and conducted in a very friendly and relaxed atmosphere. Claudia truly believes that one's make up should reflect both personality and personal taste, and be appropriate for the occasion. Claudia focuses on delivering not only the LOOK, but also the state of mind and spirit, combining confidence, seduction and happiness. ?39 weekdays / ? 59 weekends

Air-brush make-up: Those who go for the conforting, fast and non-intrusive new method of air-brush make-up will find out that this tehnique ensures perfect and homogenuous layout of the base foundation. This more exclusivist type of make-up, commonly used for HD commercials and High Quality photo-shooting is often adopted and best suited for all types of events, with the pricing being only with 15-20% higher than regular tehniques. ?45 weekdays / ?70 weekends

Make-up training for professionals: Claudia's experience in make-up training for Make-Up Forever, dealing with both starters and more established professional make-up artists as well as with those aspiring to a career in the industry, ensures she is prepared to answer any question, and adopt the right approach and find solutions to any type of corrections and beauty enhancements required. At the end of the session you will be able to perform a full professional make-up and be equipped with the foundation of make-up artistry. It is advisable you are already involved in make-up activities so that you can exercise the newly acquired knowledge and techniques. ?250 (1 week session)

Claudia lives in Richmond area, however will travel to the location of your choice.

Please book several weeks in advance to avoid disappointment.
Show more
Book online
Book your wedding online securely with PayPal or credit/debit card