Wedding venue for 80 persons — The Chalfont package 2018
Wedding venue for 80 persons — The Chalfont package 2018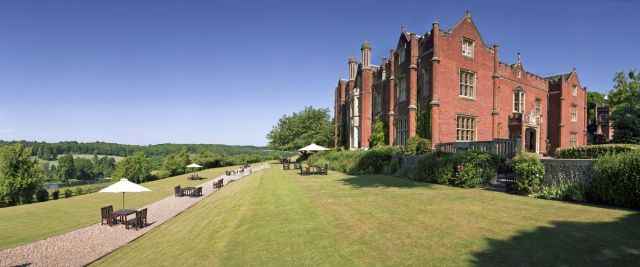 Chesham, United Kingdom
Online: more than a week ago
Book this package online
Chat directly with the vendor to discuss and customise package details
Pay only 50% to secure the booking, fully refundable within 14 days
Secure transactions and protected personal data
Complimentary room hire from midday to midnight
Access to the grounds and sun terrace for pictures
A glass of Pimm's, sparkling wine or bucks fizz on arrival
3 course wedding breakfast, coffee and mints
½ bottle of house wine per person
A glass of sparkling wine for the toast
White chair covers with sash for wedding breakfast room
White table linen and napkins
Dedicated wedding coordinator and event manager
Printed table plan and menus
PA System for wedding breakfast speeches
Menu tasting for Bride & Groom
Complimentary bridal bedroom for the newly married couple
Champagne and a gift compliments of Latimer in the bedroom
Free use of the leisure facilities for the bride and groom two weeks prior to the special day
For early arrivals we provide a complimentary changing room for your guests prior to
the wedding
Discounted guest accommodation with free use of leisure facilities
*105 GBR per person price.
The Chalfont package is for weddings on a Sunday,
Bank Holiday Monday and Saturdays in low season.
Minimum numbers of 80 are required, additional guests will be charged at £90.00 in 2018
Complimentary room hire from midday to midnight
Access to the grounds and sun terrace for pictures
A glass of Pimm's, sparkling wine or bucks fizz on arrival
3 course wedding breakfast, coffee and mints
½ bottle of house wine per person
A glass of sparkling wine for the toast
White chair covers with sash for wedding breakfast room
White table linen and napkins
Dedicated wedding coordinator and event manager
Printed table plan and menus
PA System for wedding breakfast speeches
Menu tasting for Bride & Groom
Complimentary bridal bedroom for the newly married couple
Champagne and a gift compliments of Latimer in the bedroom
Free use of the leisure facilities for the bride and groom two weeks prior to the special day
For early arrivals we provide a complimentary changing room for your guests prior to
the wedding
Discounted guest accommodation with free use of leisure facilities
*105 GBR per person price.
The Chalfont package is for weddings on a Sunday,
Bank Holiday Monday and Saturdays in low season.
Minimum numbers of 80 are required, additional guests will be charged at £90.00 in 2018
Show more
Similar packages in United Kingdom
Book online
Book your wedding online securely with PayPal or credit/debit card